Nowadays, most food products, cosmetics, health care items and household items are filled with chemicals and additives which aren't only dangerous to the environment but are bad for our health as well. There are many studies which have shown that our food is filled with synthetic substances that are directly linked to health problems like cancer, heart disease and diabetes. If synthetic chemicals can have such a powerful impact on our health as adults, just imagine what it could do to our babies.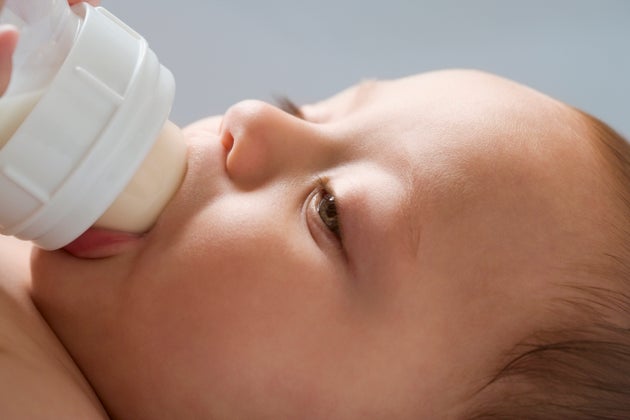 I guess this is why it doesn't come as much of a surprise that breastfeeding is encouraged for babies as the best source of nutrition. But there are a number of factors that come into play when determining the capability of a mother to breastfeed. Also, if a mother is consuming foods that are loaded with chemicals and additives and uses products which are tainted with unhealthy materials, it may be transferred to the bay through the breast milk as well. Baby formula may not be the best solution here either unless you consider organic body formula.
When nursing isn't an option for your infant, finding the right baby formula can be quite a complicated task especially if you are looking at the benefits and drawbacks of organic as well as non-organic formula.
Going in for organic formula is one of the best decisions you can make as a parent. There are a number of advantages of making this choice since it contains a negligible amount of any possible long-term allergens which means it will be completely safe for your baby.
Infants possess immature bodies which are still developing. During the first few months of their life, their digestive system is still growing. Their bones and body are growing too. That's why you need to pick their nutrition wisely.
Choosing the correct formula would mean providing them with a toxin and additives free formula so that they face no trouble with their progression.
The best formula will contain additional nutrients which have been formulated safely for infants contrary to regular baby formulas. The organic brands include health supplements such as DHA, ARA and iron too which are usually plant or milk based and not made from synthetic methods like baby formulas which make them the best choice for your baby.
This being said it is pretty obvious where an organic baby formula is the best thing for your baby and your wellbeing. Considering a large number of brands which are available in the market today, you should not have any trouble finding a good brand which will be able to meet all of your baby's nutritional requirements.
No matter what organic formula you go for it is very important that you speak with your baby's physician first and get their opinion on the matter. At the end of the day, what's matters the most is caring for the health of your baby and nothing else. So what are you waiting for? Start searching for the right organic formula right away.